Trans Erotica: Fucking a Married Professor
bisexual, femdom, shemale, shemales, transgender, transgirl, ts girl
Brat and Ts Poison fucked her College professor at a cheap motel in a hot trans femdom session.
Watch this Shemale Dominatrix Movie Here
Brat and her girlfriend noticed the lustful looks their math teacher was giving them. He was an older man, mature but still in shape. They waited for the college class to finish, and approached him with an offer: they would all meet in an out of town motel and have a fuck session Friday night. Did he want to join? He gave it some thought but quickly agreed. After all, Brat was slender and petite but exuded sexuality with every step, and her girlfriend was transgender and in the later stages of her transition. They enjoyed sharing partners and fucking around.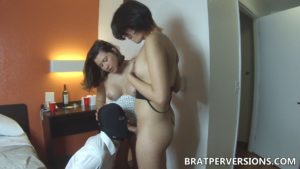 As they approached the motel, they noticed his parked car; he had texted them the room number earlier. They came prepared and brought their favorite toys with them. That included a double dildo for mutual pleasure, some lube and beads, plugs and other helpful items that would increase their enjoyment. He opened the door wearing a bathrobe. "I hope we aren't gonna have surprise quizzes tonight", Brat joked, "I'm really bad at math, but I'm really good at sex". Her girlfriend and their math teacher smiled, and her girlfriend undressed herself to reveal her pretty sizeable endowment. The math teacher disrobed – he was in good shape for an older guy, with strands of silver chest hair and powerful arms that didn't reveal his educational background. Brat started kissing him, slowly working her way down to his already hard cock. It was no wonder he was so excited: how many older guys get a chance to be with two girls at the same time, and enjoy in every minute of it?
Brat started sucking his cock while her girlfriend played with his ass. She applied some lube and started widening his hole with a plug, teasing him, pulling it in and out. He moaned from all that pleasure. He couldn't concentrate like he did in class. While Brat was speeding up with his cock, giving him the blow job of his life, her girlfriend managed to put a small dildo half way in. He came violently, filling Brat's mouth with warm sperm, feeling the cramps of anal orgasms washing over him. "It's time to kick it up a notch", exclaimed Brat, and took hold of her double dildo. She let one end slide into her wet, hot pussy, and gave another end to her girlfriend. She was already fingering their math teacher, and easily inserted the other end. They went back and forth on the double dildo, playing with their asses while her girlfriend stroked her already hard cock. She watched them enjoy in anal action, feeling the pressure in her balls. She put her stiff member into his mouth, gagging him with her big cock head and pressed it against his throat. "Take it all in, bitch", she said to him, feeling his tongue on her shaft. He could feel his own cock getting hard again. He licked her cock, swallowed as much as he could and at the same time pushed the dildo into his ass.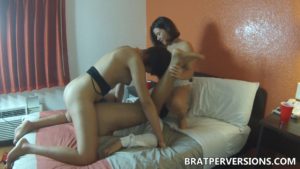 Brat came with a bang, moaning and groaning, shaking as her hot pussy clenched the dildo. She proceeded to put it away, and took a bigger one from their kit, slowly inserting it into the math teacher's ass. He was still giving her girlfriend a blow job; she saw the ass of her beautiful girlfriend going back and forth, rocking in sync with his head. She started pushing the dildo in five inches, seven, then eight. When she reached the ten-inch mark, he felt he was about to explode. Wave after wave of pleasurable heat washed over him. He was still blowing that impossible cock, playing with her girlfriend's big breasts and enjoying the sight of her slender belly when Brat pulled the dildo out, and he started shaking, cumming for the second time. Minutes after him, her girlfriend felt a rush of orgasm and came into his mouth, filling him with warm jizz. He swallowed every drop, enjoying the taste of her semen. This all happened while both of them were kissing him. They continued to cuddle him, teasing him with their breasts, sitting on his face. "Let's get some rest and then we can get ready for round three", Brat said cheerfully, "This was the best math lesson I've ever had!"