My Wife's Underwear is Disgusting (Homewrecker Testimonial)
blackmail, financial domination, homewrecker, humiliation, loser, losers, niteflirt, slave, slaves, sub
Cute Testimonial from a UK Loser: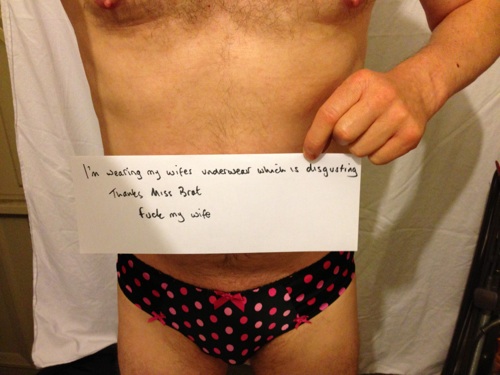 I first saw Goddesses listing on NF  and was drawn to the home wrecker strap line and decided to buy some pics
Fate intervened and it proved to be an expensive 'mistake'
I bought pictures of her ass and the roundness and peachiness just caused instant arousal and blood flowing from my brain causing thought problems
More pictures followed and then chatting on yahoo. Goddess told me I pay a weekly tribute so I paid. I've never done this before and have always paid as you go
It felt so erotic to be paying by PayPal an amount as instructed knowing it will all be repeated later on
Several pictures and sniffing amyl was a toxic combination and I find myself obeying without question
I was instructed to send a picture of me wearing panties and this I did
Now I live in fear as to how she might start manipulating. I got so aroused at a clip of Goddess outing a blackmail victim
Goddess has entered my life and is taking total control bit by bit. She gives me everything and I no longer want to spend money on wife but on Goddess
I await to see the level of control and coercion Godsess exerts.
CALL ME ON NITEFLIRT AND LET ME DESTROY YOUR BORING MARRIAGE
Check my Homewrecker Fantasy Clips at my Clips Store