Married Cocksucker Testimonial: The Amsterdam Blowbang
Miss Brat Turned Me into A Blowbang Whore in Amsterdam
Amsterdam is nice, but being there with my wife was awful. She took me to all the tourist traps, and when we got to our hotel room, she was exhausted. I was so happy when she fell asleep because Miss Brat was kind enough to give me access to her femdom hotline. I was missing her so much. I didn't even try to fuck my wife. I just wanted to feel her merciless domination, if not on my body, at least in my ear. She answered and she told me we're going to play a sissy game.
She used to live in Amsterdam, and she gave me an address but didn't tell me anything about it. She just told me to go there and tell them Miss Brat sent me. I entered the first cab on the road, and when I gave the address to the 50 years old Russian driver, he just looked at me smiling and said:
"Oh, gayboy!"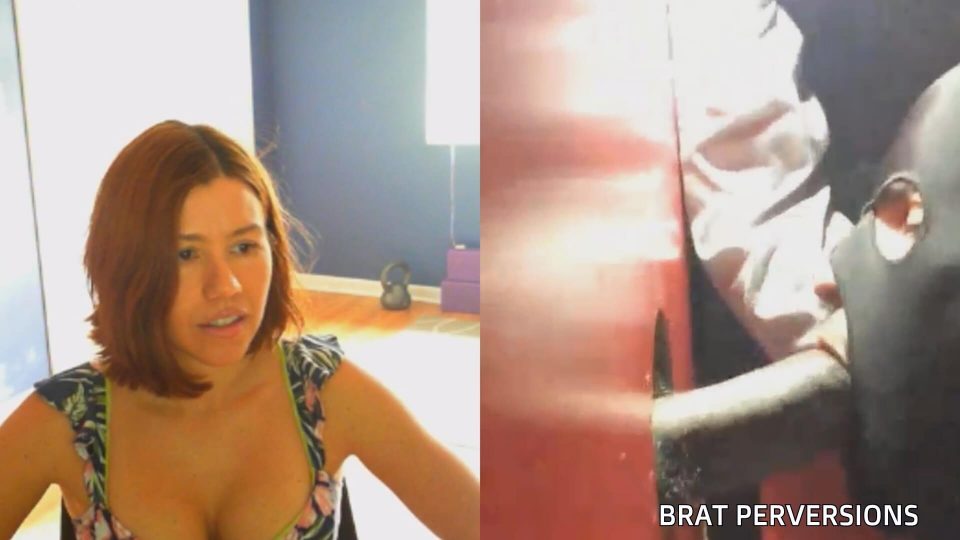 It was scary, especially since Miss Brat just hang up on me when I started asking questions about the place. He took me there and it turned out to be an adult book store. The cab driver followed me in. I told the handsome guy behind the counter who sent me and he just smiled, then he video-called Miss Bratt asking her what to do to me. She replied with laughter in her voice that I needed a blowbang.
I've never blown a dick before. Just her strap on when she humiliates me with ATM. But she knew how to manipulate me, so I just went with it. After all, I was in Amsterdam and I trust her fully.
She was on speaker with the guy who was live-streaming me so that she could enjoy her sissy slave. She commanded me to get undressed, so I did. The Russian cab driver spanked my ass and the guy told me I have sexy lips, but in such a sexy French accent that he actually turned me on.
They paraded me naked through the book store to a back room with a large couch where a black guy was smoking a joint.
"Miss Brat sent us another whore, Darius!"
They all got in a circle and pulled out their cocks. Miss Brat ordered me to kneel. Each of them was at least twice the size of mine, except for the black one which was just gigantic. The guy turned on the flashlight of the phone so that my mistress could see me better. I was blinded, and she ordered me to start sucking.
Their precum was sticky, and Miss Brat ordered me to ask for their cum. She made me say that I'm a sissy bitch with cravings for sperm and that my throat is open for fun.
That's when the Russian man took my head in his hands and started to fuck my face. Then he passed me to the French guy. And then the black guy pushed his rod so deep in my throat I could feel it in my chest. He came, and Miss Brat told him to put out his joint in the pool of cum that I was holding in my wide-open mouth in front of the camera so that she could see what an obedient slave I am.
Then she ordered me to spit all the cum in my hands and use it as lube to jerk off the two other guys. The guys were so turned on by Miss Brat's commands and while I was jerking them off both at the same time, I opened my mouth wide and put both of their dicks in. My tongue was licking both tips and they were rubbing against each other.
I made two men moan while their cocks were in my mouth, and I could also hear Miss Brat moaning through the phone. Both cocks came down my throat almost at the same time. It nearly choked me, but I hold it in. Didn't want to spill any and disappoint my queen. The guy gave me the phone and they left. I was kneeling on the floor with cum and spit around my mouth and I was watching Miss Brat playing with herself. She ordered me to swallow the cum and when I did, I think she had an orgasm. I was so proud of me for pleasing her, even if it meant sucking three cocks and swallowing cum on the other side of the world.
She just hung up and I went back to the hotel. I sneaked into bed with my wife and kissed her on the lips in her sleep, with the aroma of three guy's cum still in my mouth.