Hotwife Erotica: She loves Gloryholes
cuckold, Erotic Stories, gloryhole, hot wife
Slutty wife like to visit gloryholes with her cuckold.
Watch Gloryhole Videos Here
He knew what he was in for by taking his wife to this underground club. It was the next step in their cuckold relationship. He loved watching her giving blowjobs to other men. He adored her when she was moaning on their bed, satisfied by another guy with a bigger dick. But this… This was something new. He was about to watch his wife giving blowjobs to complete strangers while he would remain unseen.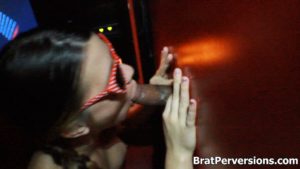 His hotwife dressed for the occasion. Putting on her slutty black dress and a touch of makeup on her slender face, he caught the reflection of her high cheekbones in the mirror. He could almost taste the excitement in the air: she was about to fulfill their ultimate fantasy. They were silent driving there, and when they reached the club, she knew what had to be done.
She stepped into the booth with a few glory holes while the husband comfortably sat behind the mirror, alone with his dirty thoughts. Suddenly, one glory hole wasn't empty: a cock appeared, seemingly out of nowhere, and his wife eagerly accepted it with her luscious lips. She slowly licked the engorged head, stroking the base with her petite hand. The husband watched mesmerized, unbuttoning his jeans and taking out his already semi hard dick. The sight of his wife giving blowjobs to complete strangers had an otherworldly appeal. He watched as she stroked a stranger's dick which poked through the glory hole, her head furiously going back and forth. He yanked his stiff dick, almost ready to go; but managed to prolong the pleasure and avoid orgasm at the last moment. His wife, obviously enjoying in stranger's cock, kept up the pace and he saw her covered in sperm, the cockhead ejecting volley after volley of jizz on her black dress. She just gulped, swallowing the remains, took care of a stray strand of hair on her face, and moved on to another glory hole. A huge dick that appeared out of this one was much bigger – almost nine inches, he noted – and already hard as a rock. The wife started swallowing the oversized head while moaning from pleasure. The husband just watched in awe, enjoying in his cuckold status; his wife might be a slut, but he relished in the role of being the cheated husband. In fact, it was his idea to come to this underground club and try the video booth and glory holes, as the next step in their cuckold relationship.
He jacked his dick while she sucked the stranger's cock. She swallowed and stroked the thick member of another man while he was jacking off his own. The video booth gave him a sense of secrecy and comfort. He came down loudly, his moans echoing the walls of the booth, but his wife never seemed to notice. Instead, she continued to suck and deep throat the cock sticking out of the glory hole, aggressively rubbing the circumcised monster with her lips. Her lipstick was gone by this point, and her black dress was already covered in jizz. Still, she continued stroking the dick, all the while rubbing her fingers against her own wet pussy. She felt like she was on fire. She knew that her husband was watching, jacking off his own rock hard member, but she didn't care. All she cared about was the cock before her; the rest of the world didn't exist. She felt that the stranger was ready to climax. With that thought, she started blowing him faster and faster, until she felt the first spasms of orgasm. Instead of swallowing the thick torrent of cum, she let it all out. Her small tits were already covered in warm sperm, but now they were drenched. Still, her only thought was: more. More and more cocks and glory holes, while her husband watched. She turned her head, taking a breath of air while the stranger's erection subsided. Her husband was already getting hard again, expecting another cock from the first glory hole. And there it was: a large black anaconda appeared like a welcoming break from the two white cocks that his wife had sucked right before his eyes. She looked at the third cock that appeared out of the first glory hole, and felt a rush of a massive orgasm coming on.