Foot Fetish Erotica: Cheating Footjob
Erotic Stories, foot fetish, footjob
A Married young wife's cheating footjob to her neighbor, while hubby is at work.
Watch Hot Footjobs Videos Here
Ashlynn is a hot woman who lives a happy life with her husband, he works a lot and she is always looking for some, let's say it, extra fun! Ashlynn is an adept of the foot fetish, if there is a foot then she will be all slutty and wet just by thinking about it. A kinky feet experience is everything she is seeking on a daily basis. Today Ashlynn is home alone, her loved husband is out working and she becomes horny like she always does daily, it is a very strong feeling and
she can barely control it, and very often she get things out of hand! She loves to cheat her husband and seeks other guys to give them footjobs. Today the lucky guy is her neighbor, but tomorrow can be some strange guy she meets on the street. She is not about cheating her husband for getting her pussy or ass fucked. No, her only motivation is to use her feet to masturbate other guy's cocks. Her feet look like that have been made to do this and especially when she puts some lube to help things out. He is happily receiving his footjob when she gets a call on her cell phone. Guess what? Silence is imposed, it is her man and she pretends that she is alone at the moment. Her husband is calling to know how things are going, how has been the day and things like that which she replies that she tired of her feet, blaming her shoes. She says that her feet are aching a lot and only he can make her feel better. At the same time, she is talking to her loved husband she is stroking the other guy's cock, how slut is she? A lot! In a scale of 10, she would be 10, a one hundred percent slut! And to make it even more exciting she says to her husband that her feet are in the need for a massage, those messages that only he can do. Even more, she goes even deeper in the slutty talk and tells her husband how she loves to feel her tongue on her feet. She is certainly referring how he worships her feet when they are doing naughty things in bed. Her husband uses to suck her toes and use his tongue to lick her soles, especially when she is sweating and all dirty. She loves to feel the sensation of being worshiped on her feet. The more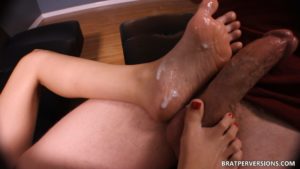 she talks about it, the more she intensifies the strokes on her neighbor's hard cock. The guy is holding it like a real man, because she is really good and experienced at it, the most probable thing to happen was that the guy would cum really fast due to her advanced skills at the art of stroking cock with bare feet, she is just amazing at it. Not even thinking for a second about the possibility of being cheated by her wife at that moment, he thinks that she is completely one hundred percent faithful; her husband keeps promising that when he comes home he will suck her toes and will massage her tired and sore feet. She likes the idea, of course, she does like, her fetish is all about her feet and everything that involves it will make her horny and sexually satisfied. After all the talk on the phone she keeps generically masturbating her neighbor until the guy can't hold more time his load. He has no choice and must cum on her feet, all his hot cum is all over her feet, just like she loves it. Her feet fetish is fulfilled for now and her neighbor can go home now, at the end, he is just disposable meat that was just used for her own satisfaction. For now, she looks like satisfied but later at night she will for sure want more action when her loved husband arrives from work, she will make sure that he will do a hell of a job worshiping her feet. Now it is time to take a nice bath and put some sexy lingerie, her loved husband is coming home!
Get Full Access to the Hottest Foot Fetish Videos