Bisexual Erotica: Our Trip to a Mixed Sauna
Parisian Bisexual Cock Sucker  Testimonial
"I adore Miss Brat. I am her worthless pig and she has full liberty over my body and over my will. I gave up myself to her desires. Last time I had the honor to be in her presence, she had something special for me. She was kind enough to let me lick her goddess pussy. But that is not all the story (Central Paris, France). Here's how it happened. She called me on a Monday. I was at work, but that didn't matter. Her desires are more important than my career. She gave me the address of this mixed sauna. I entered and saw her chatting with the chick at the front desk, all smiling and friendly. She introduced me as one of her friends and you couldn't even figure out that she is one of the most brutal dominatrices who ever lived. That kindness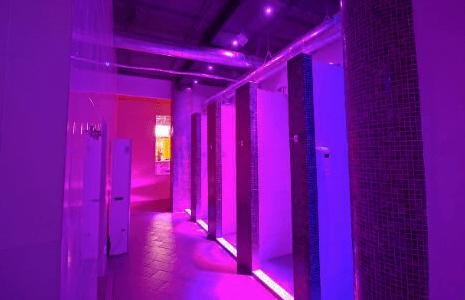 mask fell off once we entered the empty hallway that takes to the mixed sauna. She commanded me to take off her clothes and fold them carefully into her gym bag. Then she made me take off my clothes and throw them in the dirty towels bin. She made me walk that empty hallway naked on all four while she was walking behind me, kicking me in the balls.
She opened the door and said: "Ok boys, who want to have fun?" Without even knowing the two guys who were relaxing in the sauna, she sat down and put her legs on my back while I was still on the floor on all four. Made me feel like a piece of furniture. She opened her legs and started playing with herself for the two handsome gym rats with gorgeous looking bodies.
"You've seen my pussy, now I want to see your cocks!" She has confidence that convinces anyone to follow her will. The guys took off their towels and both of them were already hard. Both were also bigger than me, and I felt even lesser of a man. "Here's the deal, boys! If you want to fuck me, you will have to let my slave suck on your cocks." They looked shocked but didn't say anything. I wasn't shocked at all. Miss Brat kept telling me how she will make me suck a real dick during the last sissy training session and I was ready for it. I was craving it, even. I wanted to please her at all costs. Without another word said in that sauna, I crawled over the thick muscular legs of the first guy and I took his hard cock in my mouth. Then I felt the hand of my goddess pushing my head while she commanded me to open up. I did and the cock penetrated my throat, making me gag and gasp for air. She took my hand and put it on the other guy's dick and then she started laughing. While I was taking turns sucking on those cocks, she was making out with the guys and had them worship her magnificent boobs. Then she grabbed my hair and with the force of a grown man, she pulled me off the dicks and tossed me in the corner of the sauna.
Miss Brat got on top of one guy and started riding him sensually. She even made me lick on his balls but she warned me not to touch her pussy or ass with my worthless tongue. Then she had the other guy come from behind and put his dick in her ass. I could see she is satisfied getting double penetrated and I started jerking off in the corner while she was moaning like a slut.
"I want you both to cum inside me at the same time", and the guys immediately did. The guys sat down to catch their breath and she sat between them, stroking their still hard cocks. She opened up her legs and said: "Clean me up, slave!" I crawled between her legs and started to lick the sperm that came out of her sweaty pussy. I felt so humiliated, but so honored to finally have permission to put my mouth on her precious hole. Then she turned around and spread her butt cheeks and without even having to be told, I put my lips around her ass hole. She pushed a cum fart right into my mouth and I waited for her to turn around to see me play with the sperm before I swallowed. Then she got out of the sauna and left me there with the two guys whose jizz I've just eaten. I can't wait for her new phone call. I hope she will make me suck a black cock next time or have one fuck me in the ass. Anything for Miss Brat!"