Adult Bookstore Erotica: Sissy is a total Slut
Erotic Stories, Sissies, sissy
Sissies Always love Adult Books Store Tasks
The Sissy knew what he was getting into when he first met Miss Brat. She came highly recommended by some distant coworkers of his – people who shared his sissy desires and secret passions. He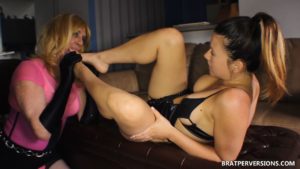 loved to dress up like a sissy and let Miss Brat have his way with him. Her orders ranged from simple ones, like "lick my feet" or "clean my boots", but over time they grew to be more intricate and elaborate. After a while, Miss Brat wasn't satisfied with simple orders and displays of power. She needed something more, something bigger… So she decided to take sissy to see a movie. Sissy was confused at first – how were they going to have fun if they were to watch a movie? "Don't overthink it, sissy", ordered Miss Brat, "you'll get what's coming to you. I have a whole day planned just for the two of us. Two of us and some special friends whom we will find at the cinema."Sissy shuddered, knowing that Miss Brat had something else in mind. After all, he was her cum bucket, and he loved when strangers would cum inside his ass while Miss Brat was ordering him around and pleasuring herself. She would bring someone into her house and let the stranger fuck him relentlessly while watching; the sissy would be restrained and bound, unable to move, feeling the big cock penetrating him. It felt unlike anything else in his entire life, and he was happier than ever. So, the movie theater was going to be something extra special, and the sissy dressed for the occasion, prepping himself for the adventure.
She took him, her sissy, to the adult cinema. It was a long ride from his house, and he was glad that no one will find out about his secret adventures. Still, there was always a chance that he'll run into someone familiar, and he pushed back his big, dark glasses while waiting for Miss Brat. She came in her car and parked right next to the entrance, ordering him to come with her. They bought tickets to one of the anal destruction movies and went inside. The hall was dimly lit and he could barely see, but he managed to get a glimpse of a bunch of guys who were jerking off and occasionally moaning. "You'll start sucking off these good people immediately, sissy", ordered Miss Brat, "you'll suck them real good like you're enjoying yourself. And you will enjoy yourself, or else", she added. He approached one of the guys, half walking, half stumbling in the darkness, and let the guy feel his lips on his big dick. "Oh yeah, that feels so good", said the guy, "suck me dry until there's nothing left", and continued to watch the movie. After the guy came inside his mouth, the sissy swallowed his salty cum and went to the other guy. And then another, and another. He must have sucked half a dozen dicks when Miss Brat ordered him to bare his ass. "It's time to see what your ass is made of, sissy.
Can you take all of them", she asked with a mischievous smile. The guys at the cinema practically lined up to fuck him: they bent him over the seat and fucked him one by one. Some of them were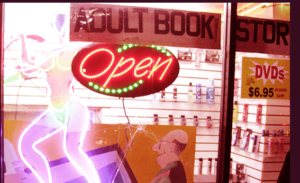 smaller, some bigger, but he could feel their hard cocks pounding deep inside his ass, and he rhythmically moved in order to give them more pleasure. By now, his ass hole was completely powerless and stretched beyond limits. He could only passively feel what Miss Brat was doing to him… And enjoy every second of it. He was her sissy, after all. They started coming inside him, one guy after another, and some of the guys were fucking him while he was lubed with so much cum from all those strangers. Miss Brat, meanwhile, got horny and stroked her gorgeous pussy while watching her sissy take all of these dicks. She called some of the guys and decided to suck their cocks just for fun while the sissy was still getting relentlessly pounded. "I can't take it anymore", said the sissy after ten guys fucked his ass. She could see that his ass was sore and stretched from all the pounding, But She doesn't care.
You've been a bad sissy and you need to learn your lesson. You'll continue servicing these guys until I order you to stop, and not a second longer. I want more cum inside your ass, not less", said Miss Brat, pausing momentarily from the cock she was sucking. Then she proceeded to take the big cock in front of her and give the guy a good head: it was a long cock and she wanted the guy to really enjoy himself while she was displaying power over her sissy. "It's almost time for cum swapping, boys", she said to their audience, "who's got some juice for Miss Brat?". She let some of the guy's cum inside her mouth and all over her face, and then she didn't swallow their warm cum. Instead, she showed sissy not to move and started transferring all that jizz inside sissy's red, swollen ass that was completely destroyed by now. The sissy could only try to hold so much cum inside, feeling it drip and drizzle from his ass which he couldn't even clench any more. He was wondering what sort of adventure Miss Brat will think of next.