Sissy Erotica: Slut Training
Miss Brat's Sissy started a new slut journey.
Watch Hot Sissy Movies Here
Sissy training is not for everybody, and Miss Brat is one of those mistresses that dominate this real art and fetish. She brought one of her best subs, Lindsey, to the game because she loves to share her fun. Lindsay is all about having sex and pleasing her Mistress with every single man that walks in front of her. In this case, she will have a new experience, since Miss Brat is about to share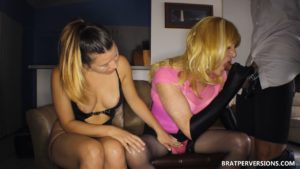 another of her best subs with her in order to make Lindsey a real sissy slut. Lindsay looks like a real woman, wearing a vivid pink top and a nice and sexy blonde wig, and I'm not exaggerating! And Lindsey even looks like a real woman, especially if you do not see her face. Now, the male sub, let's call it this way, is all ready to put his cock at work, he comes in and is standing just waiting for the action. He is wearing a mask and leather gloves, basically, he looks like a real thief ready to break in Lindsey's home just to abuse her, just to make things even spicier. Sissy slut Lindsey is required to retouch her makeup, making her lips gorgeous and sexy just to give the maximum pleasure possible. Miss Brat is supervising all the action to make sure that everything happens accordingly her high standards for the Femdom art. The male sub is wearing some leather pants with a zip in the middle, once the zip is open his cock comes out just like if it was looking for something! Lindsey will start her action now by gently touching the male sub's cock with her mouth. The damn love pole is growing and becoming hard, looks like Lindsey will have to have room for it if you know what I mean. Miss Brat is happy with all this scenario, it has potential and her two subs will for sure make they duty since they already know very well what is it going to happen if the fail to comply on Miss Brat's demanding. Now let's get back to the action and verify if this sissy slut training scene is worth of its name. Miss Brat's male sub-Lindsey is losing her shyness and starts to be more and more relaxed and proactive, or in other words, Lindsey is sucking cock like a real slut that she is and at this time Miss Brat is approving that! Enough is enough and now it is time for Lindsey to take that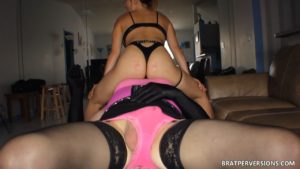 massive cock up her ass, if Miss Brat demands it, then she must obey at all cost and pain, and believe me that this scene must be painful. The male sub puts himself in a position to fuck the sissy slut Lindsey in doggy style, which she will comply without making any resistance or questioning Miss Brat at all, which it would be just a bad move from her. Now Lindsey I holding like a man, ah ah the irony, she is taking in the ass and in not a moment is showing signs of weakness or wanting to give up. Sissy slut Lindsey is in doggy style position while Miss Brat is kissing her from time to time. Looks like Miss Brat is happy with the performance of both her subs and as you might already know Miss Brat is not an easy person to please, actually she is known to be one of the toughest femdom mistresses of this industry. Now after an intense scene of anal sex, it is almost time to end up all the fun and does you know a better way of ending up a scene like this than with cum on someone's face? Yes, that is what is going to happen, not that those subs decided, but because Miss Brat makes them do it, now, our sissy slut Lindsey is on her knees and all ready to take a load of hot cum all over her face, while Miss Brat is watching it carefully in the background. These two subs are just well domesticated and deserve to be dominated by the goddess, the unique, the major femdom and real powerful Miss Brat!