Lesbian Erotica: Bondage and Love
bondage, Erotic Stories, lesbian
When two hot girlfriends gather in a sensual bondage session everything kinky can happen.
Miss Brat is well known for her brutal behavior and today is no exception. This femdom session will cover a lot of goodies about lesbian bondage, if you know what it is about then you already know what to expect, otherwise, you are about to learn some new things today. Miss Brat's girlfriend, Camille Black, is the type of girl who lives her life by this rule: everything must be felt like if it is your last day alive on this goddamn planet. Miss Brat is always available for the pleasure, pain, and free hugs, well not really when it comes to all those free hugs! Her game is more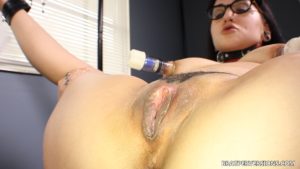 serious and much less friendly than you might think. Camille is all set and ready for some fetish play, and her pussy will be the main subject here since it will be pumped up to the limits. Miss Brat starts by putting her pump on Camille's already wet pussy and lets the pneumatic theory work! The air exists and if you take it out of the cylinder, then something must get in and in this case, her pussy will do it just fine. As Miss Brat pumps out the air, her girlfriend's pussy becomes fat and with a visible blood rush, the pleasure spikes right now, and as you might already guess the fun just began! This hot brunette is on fire now, why? Because Miss Brat is a real fire starter when it comes to fetishes and sex related stuff. She is pumping that pussy while saying bad words to Camille, swearing can be pretty much exciting just like that well known blue pill, with the major advantage that you will not have to pay a dime for it. Free swearing is like free hugs, but much better, especially when those words are said in this fetish context. Now that Camille's pussy is pretty much reaching the limit point, it is time for some tit sucking, not using a mouth for it, guess what? Pumping out those nipples all the way into the smaller cylinders, yes, and her nipples are really suckable now, but that is not going to happen. Pain is the only way that Miss Brat knows, other methods are not accepted by our hot mistress. Camille is screaming of pain and pleasure right now, you couldn't possibly know for sure how she is feeling now, maybe, and almost certainly a mix of both feelings. Her pussy is well expanded and giving her a lot of pain and pleasure at this time, but Miss Brat is not the kind of woman who gets easily satisfied, so now it is time for some anal play. The butt plugs are now set and ready to be used and abused; now the sky is the limit. Miss Brat keeps the pump on her fat pussy and starts to play with those but plugs; Camille's ass hole is like a playground now, without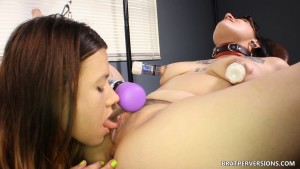 sand, but with a lot of fun and games. At this time Camille is going in full speed in direction of the orgasm, but as you might figure it out that is not going to happen very soon, because Miss Brat is playing the game of teasing and denial of orgasm, so every time her sexy girlfriend is getting there, she stops it. This way the buildup of pleasure I much better and it will intensify everything when the orgasm will really happen. Now it is time to relieve that poor pussy, so Miss Brat takes out the pump and starts to use a Hitachi Magic Wand. Miss Brat turns it on and the vibrating sex toy barely touches Camille's wet and expanded magic hole, and the orgasm is around the corner. But Miss Brat will not allow her to cum it easy peasy, with this mistress there is no way around, it is the hard way or the hard way! Finally, after a couple of minutes of pussy playing, teasing and orgasm denial, Camille is allowed to cum. This was possible the best and the most intense orgasm of her entire sex life! It's time to pack all the stuff and leave!
Watch this Hot Movie Here