Interracial Cuckold: Hotwife Erotica
bbc, cuckold, interracial, Uncategorized
Miss Brat can't stay away from the sexual action. But because she can get bored pretty easily, Miss Brat is always looking for new sensations. She is all into cuckoldress experiences and, just for altruistic purposes, will do interracial cuckold sex in the name of the free world!
Ok, not really, our Dom girl is tired of romance and vanilla sex, so her experience of today is to do interracial sex with some black dude while her lover is watching. Interracial cuckold action is actually and usually pretty exciting, but with Miss Brat it is awesome!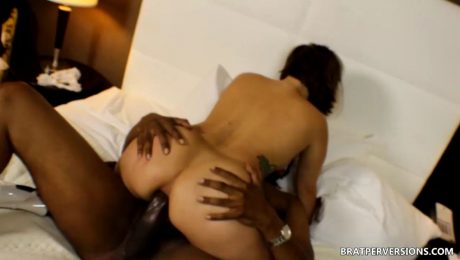 Her boring life, yes even Miss Brat gets bored with her Dom life, gives her just an excuse to get down with this big black dude she met today. Her thirsty for sex is pretty huge and her fetish side is always there because "normal" things are not appealing enough for her. Doing cuckold sex is easy for Miss Brat, actually it is part of the Domination scene, who you may ask? She will tell her lover to keep calm and watch her fucking some big black dude, just like a slave allowing her to do whatever she needs or demand.
She was drinking some vodka shots with her friend Jake, a big black guy with a fit body and a huge cock. How am I talking about his male meat? Forgot to say that she already had some sex encounter with Jake, but today's things will be different and much spicier, believe my words! After a couple of drinks, she had a huge urge for sex, but it was not something that would be done in the bar's bathroom, her demand for fetish sex is too high than that simplest way!
She brought home her new sex toy, Jake, and made her husband watch all the show. Just like a real life sex show, Miss Brat told her loser husband to set down his lazy ass. The poor guy had no choice, after all, she is his Dom and he is just a slave looking for approval and pity. He was there seating on the bedroom's couch, quiet and apprehensive just like when you are about to watch that great movie at the cinema that you have been waiting for so long time.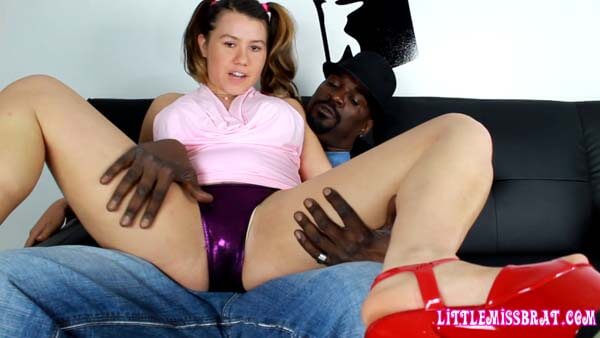 It was cuckold time! Miss Brat and her new sex toy, Jake, went to the couple's bed and started to take off their clothes. It was the time for her useless husband to learn something because sex is some serious business and some guys are just plain losers. By the way, most of them will never learn how to please a woman sexually anyway.
Miss Brat went down on Jake, grabbed his semi-hardened cock and started to suck the hell of it. In no time that big black pole went hard as a rock while she was sucking and licking it up and down, from the base to the tip. Jake almost violently decides to reply to her by doing her some oral pleasure. He started to gently lick her juicy hot pussy, up and down, left and right. She his highly pleasured at, this time, you can see it by the way she grabs and pulls the bed sheets. Her husband can't be any better, looking very closely to the action, trying to catch up some skills. Enough to say that her major reason for this interracial cuckolding sex was not for the purpose of the sexual education of her guy, her reason was very far from that. It was just a carving for the daring and the excitement of being watched by her husband while getting her holes pounded by another guy!
Jake was a major player in this league, some guys are just natural sex gurus. He went up on her hard nipples rubbing his tongue in circles, oh man, Miss Brat was already in full power mode! Suddenly, Jake grabbed her back and bent her, penetrating her sweet tight ass. She never had such a big cock inside her back orifice. While her male sex toy was pounding her ass, she had a couple of orgasms. I bet her husband almost cum by watching her fucking!
Watch Interracial Cuckold Movies Here

CUSTOM VIDEOS REQUEST