Erotica: Homewrecker Wife Domination
Kinky Homewrecker Domination Story:
It is time for some diversity and today Miss Brat's male sub will have a little surprise. Yes, he is just waiting to be humiliated and punished just like every single time they are together. But today is a special day, Miss Brat is limitless when it comes to being mean.

Her sub is expecting one more time to wait, without success, to penetrate her. That is part of the deal, she can even make him cum using her own hands or feet, but he will never get to fuck her pussy or ass hole!
Things are about to be edgy as fuck because Miss Brat have a surprise guest today. She needs to give a new step when it comes to the humiliation, and this is the right time and place. Her sub male is married and he lives a life of fantasy. His wife is a hard work woman, they have kids and he is obsessed with his mistress, Miss Brat!
Because she is a natural home wrecker, she is about to destroy another marriage. Miss Brat did the unthinkable; she messaged her sub's wife to come over, sent from her sub' phone. Poor wife, she can't imagine what is about to happen to her next.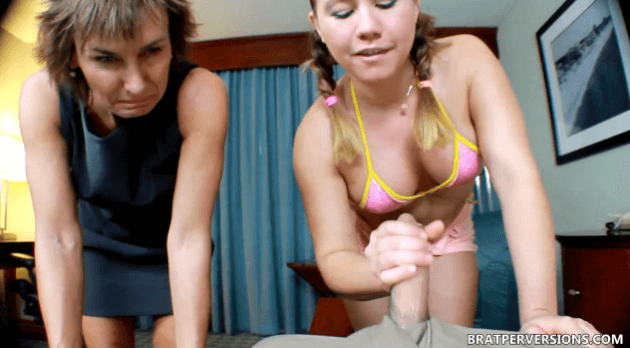 When she gets to the room, she can't believe what she is seeing. It is a too stressful situation, tired of her day job and he husband do this? Expending his spare time with Miss Brat, and worse than that, expending their earnings with this home wrecker, what a mess! A real mess just like Miss Brat loves.
Dominating is the keyword and even the sub's wife is not immune to that. The wife is in shock, the sub is not giving a flying fuck and Miss Brat is in total domination mode. The level of harassment is rising in biblical proportions. It is time to dominate the sub's wife and the fun as just begun.
The first step is giving the bad news, all her money have been spent on Miss Brat, her husband has been neglecting his kids because of this young brat. Then the domination begins, Miss Brat grabs the woman by her neck and make her watch how she is jerking off his cock. The woman is powerless and speechless, who can't blame her? Miss Brat looks like a sex therapist, a very mean one. Now she makes the woman approach his semi hard cock to give him a blowjob. At first, the wife is showing a lot of resistance and even some disgust but she has no choice at all, the only way is to obey to Miss Brat and move along.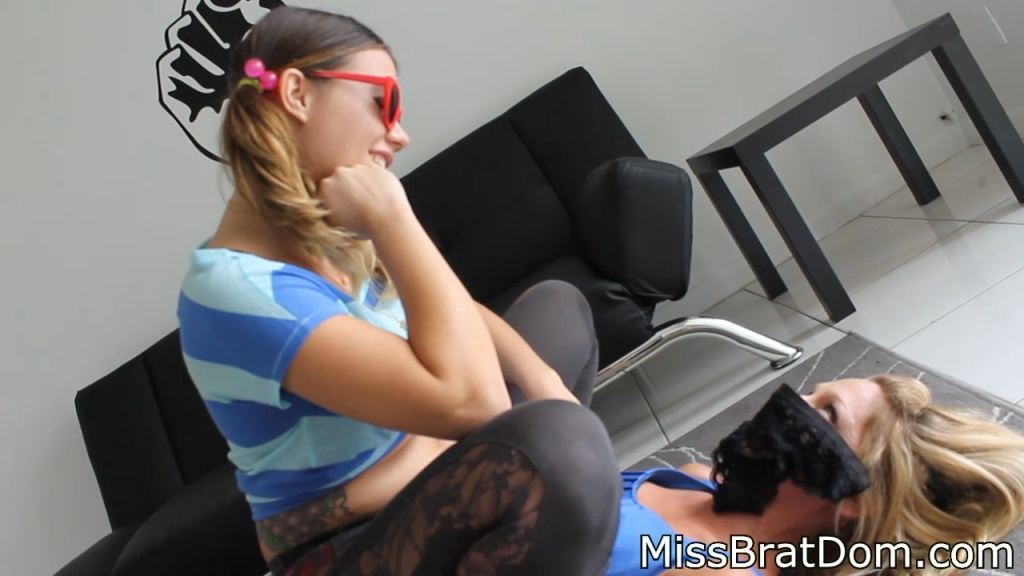 After all, this could be somehow a positive experience, like couple therapy, Miss Brat would be the therapist. But I don't think that this is her objective at all. Now Miss Brat is dominating her male sub and his wife, which is like buying two chocolate ad paying only one.
Miss Brat's new kingdom is set and she is ruling it with an iron fist. The guy will lay there, with his useless cock ready to be used whatever the way Miss Brat demands. Looks like this I one of those couples where sex is something cold and a little taboo. No blowjobs, no handjobs, no nothing against the "normality" of vanilla sex. Now the wife is about to get a cum shot from her husband possible for the first time!
Not so fast, you must remember that Miss Brat is the one who says what and when and there will be cum when she demands. Every single time her sub was about to enjoy the ride and dump his load inside his wife's mouth, Miss Brat would stop the show and give him some pain. Slapping his cock and humiliating him like never before. The end was near and because it has been a good night, Miss Brat said the word, and her sub could finally spray his semen inside his wife's mouth.
I don't believe his marriage will go along, or maybe I am just wrong and in a near future, all sessions will be in three. Looks like everyone loved it.
– Brat Perversions : )
Watch the best Homewrecker and Cuckquean Movies Here