Erotica: Closet Sissy and his Friend Wife's Panties
Erotic Stories, panties, panty fetish
They Feel so Good on His Skin
Outwardly, he was a completely average guy. He had a cute wife and lots of friends, a nice house in the suburbs and decorated front lawn. But no one was aware that he was secretly a sissy pantyboy – that he loved to steal panties from his wives' friends. He would sneak into their houses, steal their dirty and clean panties and later wear then in the privacy of his own home.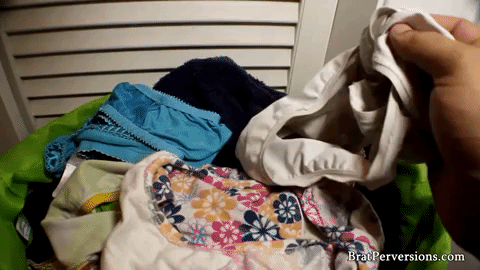 It was a beautiful day and he came home during his lunch break. The office wasn't too busy so he decided to finish his projects at home, and it was the perfect excuse to come home early while everyone was away in their quiet sleepy suburbs. He drove slowly and parked his car, waved a couple of neighbors and then changed his clothes. He wore inconspicuous white T-shirt and jeans, and easily sneaked into his wife's friend house. She was away, that tall beautiful brunette who always watched him when he was doing the lawn. She had a great taste in panties and he easily picked up a few of her silky underwear. Then he went to the next house and took a few of the red sassy panties that their slutty friend loved to wear while she was seducing men on the weekends.
Dozens of Panties Stolen
His escapades continued until he had a dozen of panties, and then he went back to his house for the main event. He undressed and watched his athletic, toned body in the big mirror in their bedroom. He carefully took out his prizes: red silky panties, plain white panties, elastic panties… He started trying them on one by one, feeling his cock getting harder. He would imagine himself as a real sissy boy, a slave to his desire, enjoying the feeling of light fabric against his skin. He stroked his cock a couple of times while imagining various scenarios that involved him wearing the panties. And he did – he used to wear these stolen panties to work, and that gave him such a rush. He would present his projects in meetings wearing those silky undergarments from his wife's friends. No one knew that him, a successful businessman, was wearing stolen panties and that deep down he was a pantyboy, a sissy who wanted to be dominated. Sometimes he thought he wanted to be caught, to be punished for his misdemeanors. Some of the friends of his wife were complaining that there was a panty thief going around town because he would steal panties when they were at dinner parties and cocktails, while they were visiting their friends. He would excuse himself and then quickly check their laundry, drawers in their bedrooms, knowing that his loot was waiting for him.
His Wife has no Idea
He had a secret closed in the basement where he would keep of all those stolen panties. He would dress up like a real sissy panty boy whenever he could and enjoy wearing them around the house, completely naked save for the panties. His wife had no idea about his secret desires and stealing. He was thrilled whenever he would kiss him while he was wearing those stolen panties. He would wear them in secret during work, changing later at home. When his wife wanted to have sex, he would hide the panties in the bathroom, quickly undressing so she wouldn't discover that her successful husband is a secret sissy pantyboy who loved to steal panties and wear them.
Watching himself in the mirror he continued to stroke his dick and fantasize further about the stolen panties. That send shivers down his spine and he had to cum there and then, making a mess on the floor with his warm cum. He could hear his wife's car comming on the driveway but he lingered a few moments more to touch those delicate stolen fabrics, imagining all the women who wore those panties before him. He changed from plain white panties to sexy red panties, quickly dressed his suit and put on his tie, ready to greet his tired wife and to show her the love and respect he deserves. The game would continue and he would steal even more panties next week from her unsuspecting friends.