Eating her Pussy: Lesbian Erotica
Today we will be talking about Ashlynn and Miss Brat, what a good and nice combination that we got here. Two brats and two really hot pussies waiting for some use lesbian sex. These best friends are usually busy with fetish related stuff, who doesn't know the famous Miss Brat and her ruthless ways of doing things.
Miss Brat invites her good friend Ashlynn to come by her house with the promise of a good moment of sex, pussy on pussy and a lot of pleasure. Ashlynn comes by and both starts kissing right there in the living room. Miss Brat is unstoppable today and she is dying for a good pussy and that is something that Ashlynn has to offer. Ashlynn starts to take her minimal clothes off while Miss Brat is watching, when all the clothes are out of her gorgeous and world class model body, it is time for Miss Brat to take her stuff off. At this time things are already on fire, both brats are horny has hell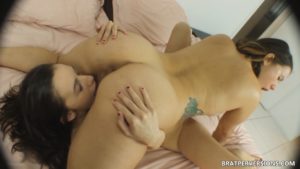 and their pussies will not stop very soon. Ashlynn is a little shy but Miss Brat will give a hand by starting to kiss her a little bit by all her body. Starting with her lips, tongue on tongue warming up the engines for the long run that is ahead of them. Brat slowly goes down to Ashlynn breasts, playing with her nipples by doing circles with her tongue. Ashlynn's breasts, that are either big or small, are just the perfect size, keep some very sexy nipples that became pretty damn hard thanks to Miss Brat's tongue moves. Ashlynn reply with the same thing, licking and sucking Brat's medium sized hot tits. Both of these girls are already out of this world very focused on the action, tongues on a run and hands doing naughty things to each other's sweaty and excited body. Now it's time for pussy eating, Miss Brat goes slowly down there and starts to gently suck and licking Ashlynn's shaved and perfect young pussy. Yes, her body is completely perfect and her age, nineteen years old, helps a lot, you are only young once so you need to take advantage of your body if know what I mean. The temperature is very high at this time, Ashlynn screams of pleasure while her pussy is being eaten by very experienced Miss Brat. Because the humans are always improving the world around with useful tools and inventions, Miss Brat brings a tool to this playground, a dildo! A big black dildo and some lube, and guess what, it is time for some lesbian anal sex. How, may you ask? Miss Brat will do strapon sex to Ashlynn's sexy and hot ass. This becomes a little bit painful, but when it comes to anal sex it is almost imperative to be some pain in the mix. Pain and pleasure are two related sensations and usually, are walking the sidewalk in hands. After a couple of minutes of anal sex, this lesbian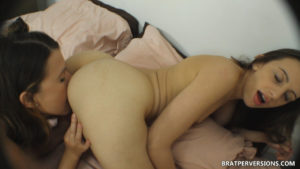 couple keeps playing on the pussy playground, everything looks wet and nasty and Ashlynn can not hold her orgasm for much more time now, but Miss Brat know very well how to take control of the situation and begin doing some orgasm denial tactics that she loves so much to do when dealing with male subs she has been doing domination. But in this particular case, despite this is not another femdom situation like many others she lived, somehow Miss Brat dominate her girlfriend by manipulating her orgasm and allowing her to achieve it only when she decided. Once Ashlynn could get into it, Miss Brat was clearly happy and pleasured for doing lesbian sex with her friend and that she could deliver all those good feelings. Maybe next time Miss Brat will bring some male sub in order to be a humiliation toy played by her and her friend, that would be just great, a real two in one. Ashlynn is also adept of domination, despite her skills are not like Miss Brat of course, but she will certainly learn with the best, the only, the wonder, the epic, the unique mad Miss Brat!